When Isaac became old and lost his sight, he thought it was time to give the blessing to his first born son, Esau. Maybe Esau did not deserve to have his father's blessing because he sold the rights of a firstborn son to  his twin brother Jacob, just for a bowl of soup. 
I think Esau was disrespectful and careless about God's promise, to make a great nation from Avraham descendants.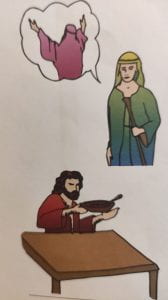 כאשר יצחק הזדקן ואיבד את ראייתו, חשב שהגיע הזמן לתת את הברכה לבנו הבכור, עשו. אולי עשו לא הגיע לברכת   .אביו כי מכר את זכויותיו של בן בכור לאחיו התאום יעקב, רק בשביל קערת מרק
 .אני חושב שעשו היה לא מכבד וחסר רשלנות כלפי הבטחתו של אלוהים, להפוך לאומה גדולה מצאצאי אברה
I believe that this Pasuk/Parashah teaches us that the way Jacob wanted to get his father blessing it is bad.
אני מאמנת שהפסוק/(שהפרשה) מלמדת אותנו שהדרך של יעקב לקבל את הברכה מאבא שלו היא לא טובה (היא רעה).  
His father loved his both sons but he thought that it was right to give Esau his blessing.
אביו אהב את שני בניו אך הוא חשב שנכון לתת לעשו את ברכתו.
Rivka helped Jacob to disguise himself in Esau, to deceive Isaac. I think that the blessing obtained by cheating, will be heavy on Jacob's neck and shoulders.
רבקה עזרה ליעקב להתחפש לעשו, להונות את יצחק. אני חושבת שהברכה המתקבלת על ידי רמאות, תהיה כבדה על צווארו וכתפיו של יעקב.